---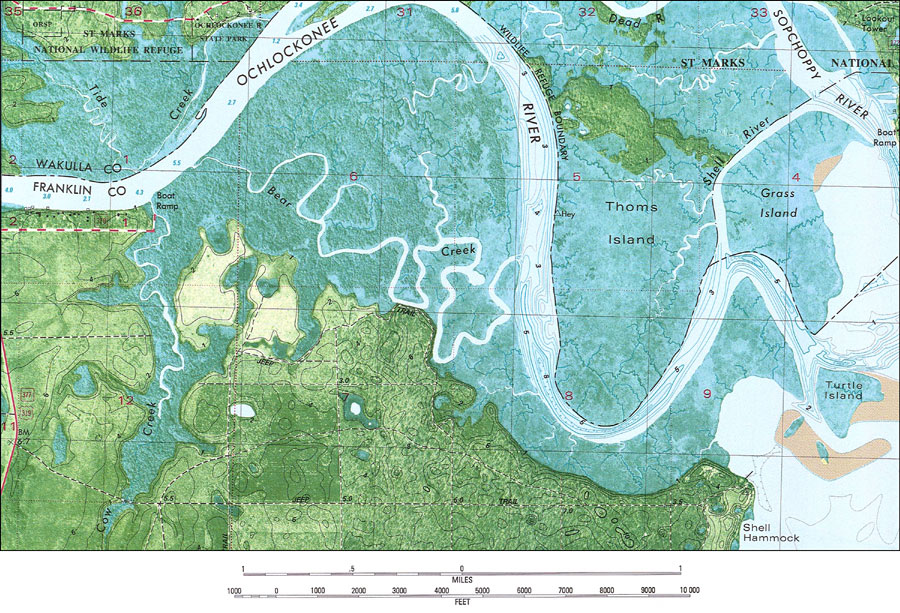 Along the western edge of Wakulla County runs the Ochlockonee River which begins in Georgia 200 miles upstream. This river corridor is home to many threatened species of fish, wildlife and plants, such as the orange azalea, the wood stork and the Atlantic sturgeon. Along the river lives Florida black bear and in the brackish waters live blue crab, sea trout, redfish and largemouth bass. It is the deep yellow and reds of Georgia clay that colors the waters with rich organic matter that then flows downstream and feeds the healthy estuaries, vital to production of our renowned fresh seafood. By day the landings along the river keep busy as boats of all kinds come and go carrying passengers to fish, to ski, or to simply enjoy this very impressive river.
Board your covered boat on a tour to explore the natural beauty of the marsh and the islands at the convergence of the
Sopchoppy and Ochlockonee rivers.  As you pass through the narrow channels you may view wading birds, alligators and the occasional manatee and dolphin as your guide describes the flora, fauna and history of the area. Check blue crab traps and explore unspoiled islands.  Come enjoy the impressive Ochlockonee River with Capt. Joey Tillman aboard the Wakulla Explorer for a delightful 2 hour cruise!  $20 Adult/$10 Child (12 & under), FREE (3 & under). Seating limited to 18.
The Ochlockonee Scenic River Tours depart @ 10a.m. and return at noon.  PLEASE NOTE: 6 paid passenger minimum required to run the tour. Please inquire about our existing passenger list for your preferred tour date.
Summer Dates:
JUNE
Tuesday, June 26
JULY
Monday, July 2
Sunday, July 8
Saturday, July 14
Friday, July 20
Tuesday, July 26
AUGUST
Wednesday, August 1
Tuesday, August 7
Monday, August 13
Sunday, August 19
Saturday, August 25
Friday, August 31